Washington State Well Report Viewer
Welcome to the Department of Ecology Well Report Viewer. A Well Report describes the location, ownership, construction details and lithology of a completed well. This web site enables you to search for wells which have well reports and to view the well report using a variety of search tools.
Tell a friend!
Map Search
Search for well reports by navigating a Washington State map.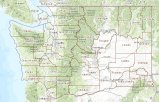 Text Search
Search for well reports by completing a search form.
Disclaimer: Well locations reported to Ecology may not represent the exact location of the well.